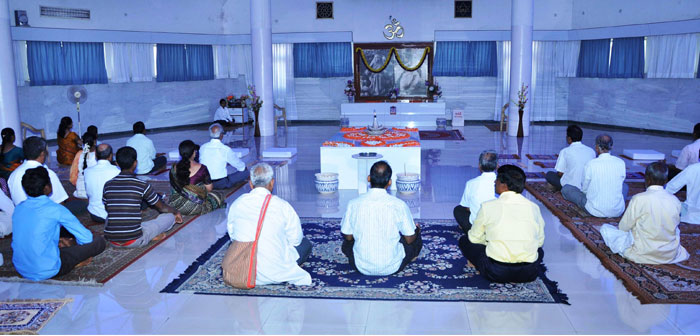 "Sri Aurobindo Meditation Hall" stands 88 feet tall with open lotus roof crowned by a 20 feet diameter Globe with stainless steel ribs. The shell structured roof is truly an engineering marvel. The lotus roof with stainless steel globe as its crown symbolizes Sri Aurobindo uplifting the Mother earth to the supramental truth and light. The inauguration of this monumental edifice was done by then elected Chief Minister of state, Shri. S.M. Krishna on 11th June 2000.
Meditation Hall has at its center enshrined relics of Sri Aurobindo. The high pyramidal roof provides an enchanting experience of silence from within. This hall is Open to Public for Meditation from 8 a.m to 12.00 noon and 4.00 p.m to 8.00 p.m on every day. Marble platform of relics will be decorated with flowers on Darshan days and other important occasions. And group meditation with music will be arranged on these days.
The hall is kept free at an allotted time during the day for students. Students are encouraged to visit meditation hall and feel the silence.