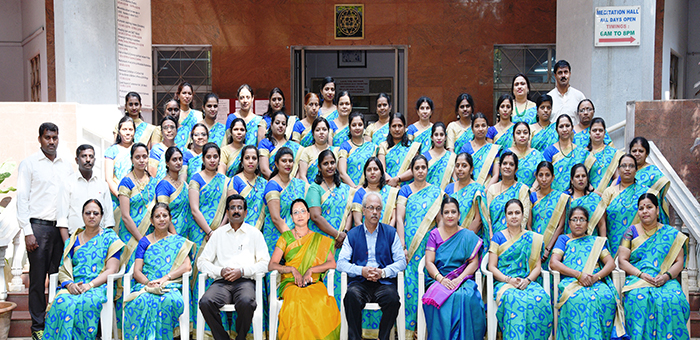 At MSFNA, teachers are primary stakeholders in the education process and they are only the Facilitators and not the Instructors. All teachers are exposed to integral education on a continuous basis and are given full freedom to draw their lesson plans but remaining within the framework of CBSE curriculum.
Well trained and experienced teaching staffs are selected on the basis of merit; affectionately handle students to bring out the best by paying individual attention to each student. A free approach in education is absolutely essential, for this alone can influence the child's inner being come to influence and determine his conscious awakening. To this approach, the Mother gave the name 'Free Progress'. 'Free Progress', she said, 'is a progress guided by the soul and not subject to habits, conventions and preconceived ideas'.
The quality of a child's early education will have a significant and serious impact on his/her future. Philosophy at MSFNA is not mass education but class education. Higher the individual attention, higher is the assimilation and learning. Teacher to Student ratio is in the range of 1:18 to 1:22.
STAFF LIST FOR ACADEMIC YEAR -2017-18
| 1 | PRINCIPAL | Mrs. SHARADAMBA |
| --- | --- | --- |
| 2 | CO-ORDINATOR | Mrs. MRUNALINI DESAI |
| --- | --- | --- |